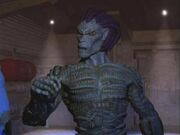 Bio-Constrictor
(short for "Biologically Altered Constricting Serpent", having been given this name by 'Berto) is usually addressed as "Bio-Con" or "Bio-Constrictor" in the series and movies.
Dr. Klimo
was involved in an accident what is thought to be injected with electrified snake venom, and thus mutated into a half-human, half reptile with the abilities to turn into a snake, poison people with highly-toxic venom or use his venom to transform other people into copies of his mutated self. Bio-Con looks more like a leather mummy rather than a snake, mostly because his body is composed of several serpents twisted around what seems to be his base skeleton. Before his accident, he was an employee fired for erratic behavior, mainly due to turning poisonous animals, such as scorpions and snakes, into biological weapons, which appears to form a basis of the plotline of the
Endangered Species
movie. Towards the end of
Endangered Species
,
Psycho
betrays him, and kills him with a self-destructing android. He initially met
Josh
when he was younger, and they used to play baseball together.
Ad blocker interference detected!
Wikia is a free-to-use site that makes money from advertising. We have a modified experience for viewers using ad blockers

Wikia is not accessible if you've made further modifications. Remove the custom ad blocker rule(s) and the page will load as expected.