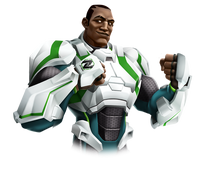 Jefferson Smith
or simply
Jefferson
is an N-Tek agent who is an amazing jump jet pilot that works for
Commander Forge Ferrus
. He is skilled at shooting and is very smart. In some episodes he is kidnapped, for example, in the episode Hard Water he was kidnapped by 
Water Elementor along
with other humans to give him fuel for the elementor's  spaceship; which he came to Earth in.
Origins
Jefferson is very skilled in combat, such as when he and the other agents were combating the Dredd Naughts, Earth Elementor, and Fire Elementor. His origin is unknown, but he is one of the best N-Tek Agents along side Kat Ryan. He also cares about Kat, the other N-Tek agents and Max.
Ad blocker interference detected!
Wikia is a free-to-use site that makes money from advertising. We have a modified experience for viewers using ad blockers

Wikia is not accessible if you've made further modifications. Remove the custom ad blocker rule(s) and the page will load as expected.