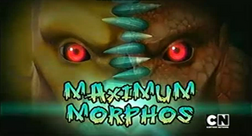 Template:MovieMax Steel: Maximum Morphos is the third and last movie of the 2015 trilogy, and focus in the return of Morphos. The movie was released on various countries of Latin America on August 2, 2015 by Cartoon Network And Split Into 2 Parts On March 17th/March 18th 2016 On CITV In The (UK).
Synopsis
Morphos has returned and is now stronger than ever! To prove he is the greatest villain of all, he begins to mimic the powers of all the enemies of Dread: even Max Steel! He will then have to team-up with all the villains, knowing that once defeat Morphos is defeated, all will try to get revenge on Max! Fortunately, Max Steel has the greatest power known so far, the new Turbo Exo Strength Mode!
Plot
Cast
Important Events
Production
The movie was originally announced at the Nuremberg Toys Fair of 2015, on Germany, but it took two months to become known among the fans.
Later on, Mattel and Turner Broadcasting signed a new agreement that gave Turner's channels (Cartoon Network and Boomerang) over 800 minutes of exclusive Mattel content, where Max Steel: Maximum Morphos was confirmed, alongside with The Wrath of Makino and The Dawn of Morphos.
Trivia
Two figures based on this movie were released, being them Exo Strength Max, and Mutant Morphos.
N-Tek does not appear in the film. This fact is probably because of bad organization, but the real reason for the absence is unknown, and perhaps, N-Tek was still recovering from Morphos' attack in the previous film, or the agency couldn't do anything against this new threat, leaving Max and Steel alone.
The Turbo Exo Strength Mode that appeared in the movie have notable differences when compared to its toy form, Exo Strength Max.
Previously, in the hispanic dub, the name of the film was "Morphos In The Limit", though that later, Mattel decided to keep the original title (in spanish, Morphos Máximo).
It was the first movie of Max Steel that was reproduced on the cinema. The movie was reproduced by a company named Cinépolis solely on Mexico during December.