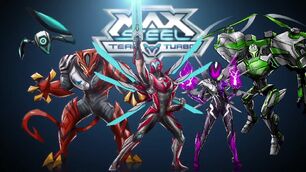 Template:MovieMax Steel: Team Turbo is a new film set to be released in Spring of 2016. In The (UK) CITV Aired The Movie Over 2 Days With: Part 1: Tues 22nd March And Part 2: Wed 23rd March In The (UK). .
Synopsis
Max and Steel face their greatest challenge ever! When Max's greatest enemies unite to take down N-Tek and conquer Copper Canyon, Max and Steel realize that they can't save the day on their own. It's time to form a new team of heroes with Tempestra, La Fiera, and C.Y.T.R.O. – TEAM TURBO!
Plot
Cast
Important Events
It is revealed that this movie takes place in the future.
Toy Line
See also: Max Steel: Team Turbo (Toy Line).
To promote the film, Mattel released few figures of the characters on the film, with each box containing the logo of the film, as well the members of Team Turbo, besides the red coloration seen in every box.
Production
The movie started to be produced on the end of 2015, specifically on October. The movie was confirmed alongside with Max Steel: Team Turbo Fusion-Tek when Mattel confirmed its content for 2016.
On October 28, 2015, the channel "Ammo Creative" on Vimeo uploaded the first promotional trailer of Max Steel: Team Turbo, where the whole Team Turbo was shown alongside with the plot of the movie. The trailer also didn't had the CGI graphics, since it wasn't the final animation.
Trivia
The plot is very similar to the last movie of the original Max Steel released, known as Monstruous Alliance.