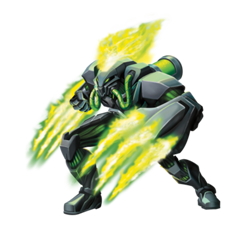 Toxzon is one of Max Steel's enemies. He was once a man named Tytus Octavius Xander. He is a mutant that plans to contaminate the world with his toxins. He has little creatures called Goopaniods. He can also use his toxins to turn human into toxic zombies.
History
He was a man named Tytus Octavius Xander. He worked as a Bio-Geneticist in THI (Trans Human Industries). He was supposed to make a cure for all existing toxins, but instead he created a new toxin that could turn people into toxic zombies. But then when Max Steel wanted to defeat Tytus, but they threw his pet fish (which is not a real goldfish), Fishy, and then he went into the toxin where he fell. He rescued Fishy, but he was mutated into a toxin mutant known as Toxzon.
Appearences
Cleaning House
C.Y.T.R.O. Attacks!
Supermania
The Secret Admirer
Gone Fishin'
Pick Your Poison
Toxic relationship
Digital meltdown
The final countdown(cameo)
The final count down part 2
Ad blocker interference detected!
Wikia is a free-to-use site that makes money from advertising. We have a modified experience for viewers using ad blockers

Wikia is not accessible if you've made further modifications. Remove the custom ad blocker rule(s) and the page will load as expected.