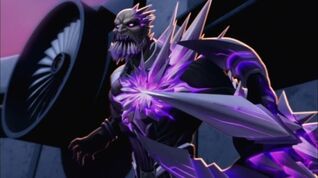 Was a criminal who was hired by Dredd until he double-crossed Dredd who planted a bomb in the suitcase which exploded and causing him to merge with a damaged Ultra-link.
Power
When Troy bonded with a damaged Ultra-link , he became a beastly creature who can morph into any animal he scans with his eyes.
Animals scanned
Tiger
- He most likely scanned his tiger from his house sometime before infiltrating the laboratories.
Spider
- During his second encounter with "Max Steel" as Extroyer he scanned a spider when he fell and acquired the form of a spider only bigger.
Shark
- When Extroyer fell to the ocean a shark appeared and he scanned the shark survived thanks to the transformation.
Trivia
Troy/Extroyer first appeared in episode 8 of Max Steel 2013.
Gallery